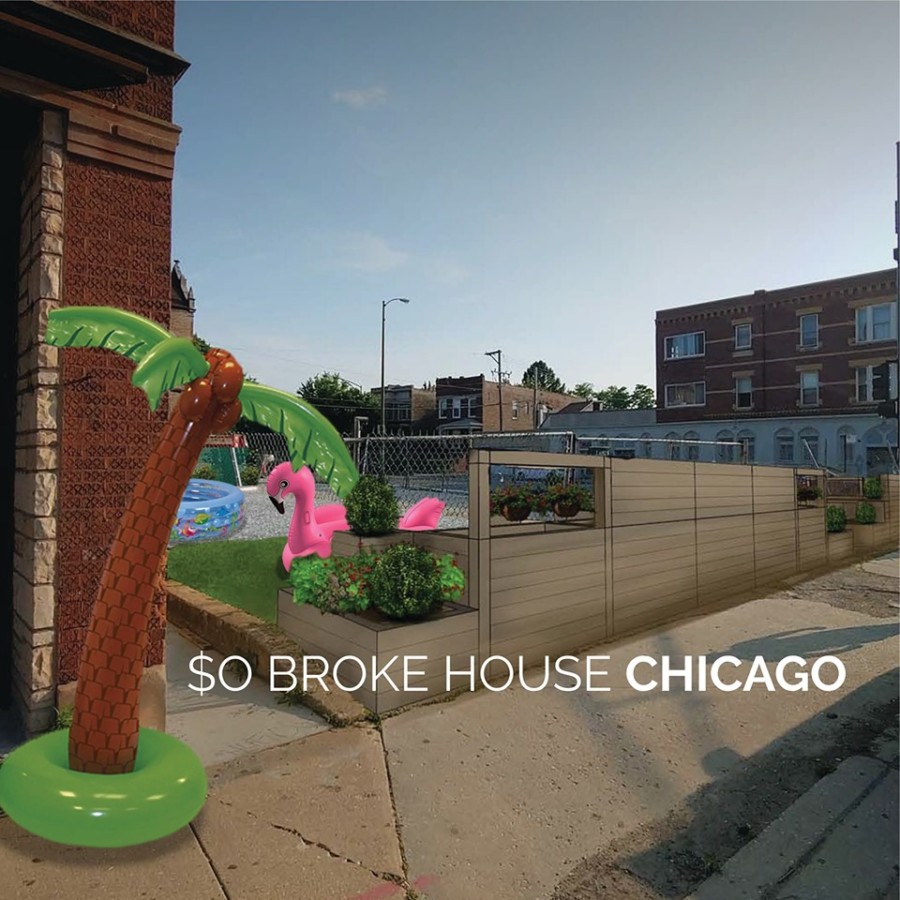 $O BROKE HOUSE CHICAGO is a one-day pop-up spa-like experience and mini-pool party; a self-care day for creatives who crave affordable options for relaxation and rejuvenation.
2:00 – 5:00 PM, Sunday, July 28
in the decorated gravel lot beside Basic Studios, 3551 W Diversey Avenue.
Join Now:
So Broke House will be established on July 28, 2019 as a pop-up kiddie pool paradise in a decorated gravel lot. Designed for people working in the creative industries, So Broke House welcomes a community of like-minded individuals, i.e. broke a$$ artists and their friends, to an afternoon of DIY luxury.
So Broke House Membership:
Two types of "membership" to So Broke House are available: $o Broke and Extra Broke VIP $tatus.
Both So Broke House memberships provide one-day access to our pop-up party in the decorated gravel lot located at Basic Studios in Logan Square, and may be redeemed onsite at Basic Studios during the So Broke House event on July 28.
Extra Broke VIP $tatus membership is $5. Extra Broke VIP $tatus membership includes a DIY spa day gift pack with spa essentials [swiped from bougie hotel rooms across the world], zines or other multiples from local artists curated by Katie Waddell, PLUS a raffle ticket and two drink tickets.
Included in both So Broke House memberships:
A pop-up kiddie-pool party and pseudo-spa on Sunday, July 28
Self-guided tours of Tender Alchemists, an exhibition that challenges the false dichotomy of luxury and austerity, at EXTRA Projects
An opportunity to contribute to artist Katie Vota's Armor Archive project
DIY Printing with mural artist Syd Veverka
FREE group yoga class with Giana Gambino from 4 – 5 PM
FREE Bike Valet and diagnostics with Cyclical Motion LLC
Access to the So Broke donation-based bar, featuring beer, water, and a $o Broke specialty cocktail
Complimentary sunlight and towels
Good company
Sprinkler water
Optional self-care services available:
[There are limited 'tickets' available, booking in advance is recommended. You will see timed tickets available and will serve as your 'booking' when purchased.]
A $5 tarot card reading from mystical space oddity Sarah Luczko.
A $5 manicure with cosmic cosmetic legend AstroWifey.
$5-$15 Sliding-fee-scale massages from Mahal Healing Arts.
$20 Stick N Poke Tattoos with Andi Crist.
And more to be announced!
PLUS!
STAYCATION RAFFLE: 1 ticket $5 / 3 for $10 Vie for the winning ticket to a staycation getaway in beautiful logan square. A 2-night stay in this local Airbnb is yours to win! [$315 value!] Enjoy the culture and food of your own city from a new vantage point. [Fall booking dates between September and December 2019] Winner to be announced on social media, and need not be present to win.