Terrain Northwest | Avondale Art Walk w/Workshops
@ TERRAIN NORTHWEST, multiple locations
Saturday, November 4th, 2023 | 2-6PM
EXTRA Projects is pleased to invite you to the Avondale Art Walk – a community celebration with art making workshops for Project 011: TERRAIN NORTHWEST on Saturday, November 4th | 2-6PM. TERRAIN NORTHWEST is curated as part of the Terrain Biennial. The outside art show is an exploration of how the Terrain philosophy of art in unexpected places could translate into streets within Logan Square and Avondale. Much of the space is more urban with fewer front yards for the types of installations that have become synonymous with Terrain. TERRAIN NORTHWEST features art in abandoned lots, sides of buildings and storefront windows along Milwaukee Avenue from the Diversey/Kimball/Milwaukee intersection to Belmont. Installations on view through November 15th, 2023.
The Avondale Art Walk is a self guided walk along about a mile of Milwaukee and adjacent Diversey Ave to see each installation. 3 of the sites will have free art making workshops and 1 will have an open reception for the work installed. In each case folks will be able to meet the artists who made the installations.
WORKSHOP | Make A Friendship Bracelet
@ Lapkus Lot- empty lot past Hairpin Art Center
Make friendship bracelets with artist Jaclyn Jacunski and make resin charms with our friends from Insect Asylum. Bring small items like tiny photos, locks of hair, etc. Dried flowers will be available at the workshop. You will also have the opportunity to help @jaclynjacunski finish her giant friendship bracelet for her empty lot installation! We will meet in front of the lot just past the Hairpin Arts Center but if the weather does not cooperate we will run the workshop inside the The Logan Square Chamber Office office next door at 2808 N Milwaukee.
RECEPTION | Celebrate the installation
@ The Corner Project – 2912 N Milwaukee
Stop by and celebrate the work of Robin Dluzen. Say hello to the artist and also meet Corner Project founder Lynn Basa!
WORKSHOP | Make A Toy Soccer Ball
@ Magnifico Coffee – 3063 N Milwaukee
Learn how to make soccer balls with artist Diana Gabriel as part of her work recycling, reusing, making together and connecting as humans.
WORKSHOP | DIY Screen Printing
@ Winsome – 3120 N Milwaukee
Bring your own object to print on or buy a blank tote bag onsite to make your own mushroom themed art print based of artist Zehra Khan's installation!
LOCATION MAP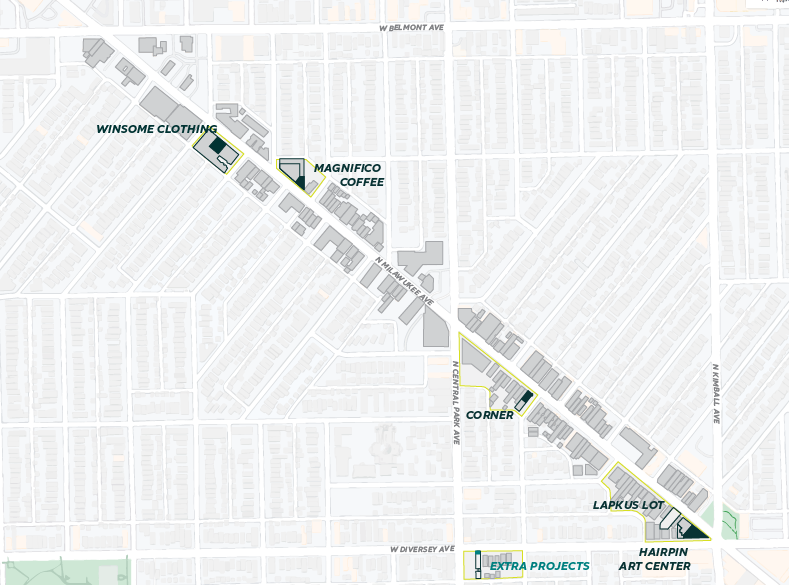 This event was made possible with the collaboration of these neighborhood organizations and businesses: