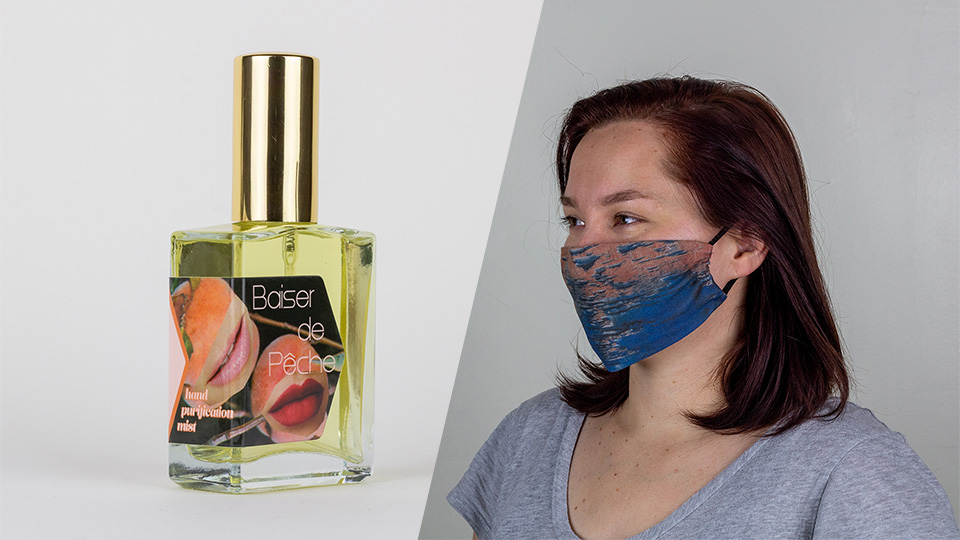 Pandemic Safety Kit Launch
DEEP FIELD AROMATICS / LAURA COLLINS / FREDERICK NITSCH
Presale Starting Friday, November 25, 2020 | Only at Deep Field Aromatics
Presale Ending Friday, December 6, 2020
Available Through December 31, 2020
Inspired by a desire to continue programming and reach audiences beyond the ubiquitous "virtual" showings that are a feature of our present moment, EXTRA Projects is thrilled to introduce the Pandemic Safety Kit. Working in collaboration with the featured artists in the current "UNPORTRAIT" exhibition and with local perfumer Russell Weiss, EXTRA Projects exhibition curator and director Kristina Daignault envisioned a hand sanitizing mist and face mask kit. This limited-edition kit is available exclusively through Deep Field Aromatics online.
Baiser de Pêche was created with the goal of elevating a functional object to a work of art. This bespoke hand purification mist was made with 18 different botanical extracts by Chicago-based Russel Weiss of Deep Field Aromatics. Weiss worked with inspiration from "Peach" by Laura Collins to develop this limited-edition scented mist with packaging design by Chris Grieshaber of EXTRA Projects.
"We've loved working with Laura, Frederick, and Deep Field Aromatics to bring a creative way to experience an extension of this show in your own home, especially when many galleries have closed and seeing art works in person is a challenge." Said Kristina Daignault, exhibition curator and director of EXTRA Projects.
Collins says, "I work mainly with minimalist collage and painting. Each piece serves as an invitation to meditate on the absurdity of pageantry and to contemplate the implied scrutiny of the public gaze."
This collaboration also introduces a limited-edition face mask with an artwork detail from a piece by Frederik Nitsch, titled Color Field 4E. Nitsch says, "Using acrylic paint to obscure portraits and figures, I hope to convey a sense of wonder at the complexities that we all contain a wonder that can make us feel closer together, further apart or both simultaneously." Frederick Nitsch is a Chicago based artist examining the question of what identity could be in abstract form.
View installation images in our online gallery.
Follow us on Instagram for additional content throughout the show.
Purchase the Pandemic Safety Kit at: https://www.deepfieldaromatics.com/unportrait-pandemic-safety-kit